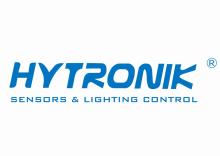 Hytronik Australia Distributors
Hytronik are specialists in smart lighting control solutions, offering a rage of RF control devices that enable communications between sensors and LED drivers.
ADM stocks a range of commonly used Hytronik motion sensors and dimming controllers here in Australia.
Hytronik's range of microwave motion sensors with integrated control technology enables them to be used in both 1-10VDC and DALI based lighting control systems.
Hytronik's range of sensors and controllers give you a straightforward solution for delivering a wide range of smart and intelligent lighting control solutions, which reduce energy costs and deliver LED lighting systems that have a lower impact on our environment.
Some of the applications that immediately come to mind include:
Intelligent car park lighting systems, where lights only come on when a vehicle moves into a specified area.
Smart lighting control for buildings, only illuminating areas that are being used.
Daylight harvesting, which uses the ambient light in any given space and intelligently controls the dimming and switching of LED lights in zones according to their proximity to natural light sources, such as windows and sky lights.
Circadian rhythm management, using artificial light when the ambient light falls too low to maintain a productive work environment.
Smart security lighting systems.
Hytronik's intelligent lighting control solutions can be easily used in conjunction with many of MEAN WELL's LED drivers to provide a highly reliable and efficient LED lighting solution.
Please use the below link to browse the range of products:
Hytronik Intelligent Lighting Control
Product Manager