ESI Pressure Transducers & Transmitters Australia
ADM Instrument Engineering is Australia's premier distributor and stockist of ESI pressure transducers.
ESI Technology, headquartered in Wales (UK), has over the past 35 years grown into a market specialist in the area of pressure measurement.
ESI designs and manufactures specialist pressure transducers and transmitters for the aerospace, defence, oil & gas, medical, automotive, process and general industrial markets.
Early success was founded on designing pressure transducers for exacting aerospace and military applications. More recent success is due to the quality and performance of ESI's silicon-on-sapphire (SOS) pressure sensing technology. This has the ability to operate at extreme temperatures, reducing the need for compensation, outstripping the performance of conventional silicon pressure sensors.
Types of Pressure Transducer Manufactured by ESI
IECEx certified pressure transducers
General purpose pressure transducers and transmitters
Hydrostatic & submersible level sensors
Pressure sensors for oil, gas, and deep-sea applications
You can b rowse the ESI range of pressure transducers on our website here: ADM Pressure Sensing and Measurement Products
ESI Pressure Transducers Stocked in Australia
ADM is the authorised distributor in Australia for ESI and we carry a comprehensive range of ESI pressure transducers.  
If you have an immediate requirement for an ESI pressure transducer, then call ADM Instrument Engineering on 1300 236 467. A member of our expert team will check to see if we have the one you need in stock, or a suitable alternative. 
The name ESI may not immediately spring to mind when you think about pressure transducers. But if you are looking for a high-quality pressure transducer, ESI is a brand that you certainly should be considering. 
The company's original name was Ellison Sensors and later became known as ESI Technology. 
In 2009, ESI became an independently run part of SUCO GmbH.  
At the outset ESI Technology designed pressure transducers for aerospace and military applications. Naturally, components used in such applications need to meet a high specification and ESI soon gained a reputation for producing pressure transducers that are not just highly accurate but are also highly reliable.  
ESI developed the Silicon-on-Sapphire technology, which gives superior performance compared to traditional construction methods, and combined with a titanium diaphragm and all titanium wetted parts provides excellent physical and chemical resistance.  
ESI also produces pressure transducers that are IECEx rated for hazardous areas and DNV approved pressure transducers for marine applications.  
Types of ESI Pressure Transducers Stocked by ADM 
ADM carries the following types of ESI pressure transducers in stock: 
| Type | Product Example |
| --- | --- |
| General Purpose | |
| Low Pressure | |
| High Pressure | |
| Differential Pressure | |
| Flush Diaphragm | |
| Hydrostatic Level | |
Unfortunately, we don't carry every variation available, but we do try to keep the most commonly used ESI pressure transducers in stock. So, if we don't have the exact model you are looking for, in most cases we can offer an alternative.  
The Difference Between Explosion Proof and Intrinsically Safe Pressure Transducers 
When it comes to preventing explosions from occurring in a hazardous there are two methods used to ensure that a spark from an electrically powered device, such as a pressure transducer cannot ignite an explosive substance.  
Intrinsically Safe 
Explosion Proof 
Pressure transducers using either method need to have IECEx approval for most hazardous area applications in Australia. In some applications additional certification may be required. 
Intrinsically safe pressure transducers will usually show an EX ia technical marking, where as an explosion proof transducer will display an EX d marking. 
Intrinsically Safe Pressure Transducers 
ADM offers a range of intrinsically safe pressure transducers from ESI.  
An intrinsically safe device has been designed so that it cannot create a spark that would trigger an explosion. This is achieved by using a barrier and a regulated power supply, as well as some careful considerations in the device's electronics design. 
The range of intrinsically safe pressure transducers from ESI is extensive and includes: 
Hydrostatic level transducers 
Differential pressure transmitters 
Flush diaphragm pressure sensors 
High pressure measurement devices 
General purpose pressure transducers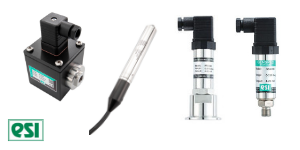 This means that ADM can offer an intrinsically safe pressure transducer for most hazardous applications. 
These devices are approved for explosion protection for flammable gases (zone 0), dusts (zone 20) and mining areas group (I MI). 
IECEx certified Pressure Transducers
IECEx is an international scheme, ensuring worldwide conformity to international standards. It provides assurance that equipment used for use in explosive environments is manufactured and operated according to the highest international standards of safety.
The most common protection method for process automation is Intrinsic Safety (IS). This is the protection method that used in ESI IECEx certified pressure transducers.
Intrinsic Safety means that ESI has designed these pressure transducers in such a way that the internal electronics is incapable of releasing enough energy, either thermally or electrically, to ignite inflammable liquids or gasses.
This is achieved by setting limitations on voltage, current, capacitance and inductance, so that the available energy at the pressure transducer is below the minimum ignition energy of the potentially explosive atmosphere.
Intrinsic safety equipment, including ESI's IECEx certified pressure transducers must undergo Type Examination by an approved third party.
This involves a detailed process of examination, testing and assessment of equipment to confirm and demonstrate that the device is safe to use within potentially explosive atmospheres. The certification must be undertaken by a Notified Body.  
Australia is playing an ever greater role as one of the world's key energy providers. Systems used in oil and gas exploration are becoming more complex, with an increasing reliance on the use of pressure transducers.
New and more challenging applications require specifically designed solutions to cope with higher static pressures, aggressive processes and environmental conditions. This is where ESI comes in.
ADM is proud to be long term partners of ESI, who has extensive experience in supplying a wide array of field proven pressure sensing solutions to the oil and gas industry. 
Explosion Proof Pressure Transducers 
ESI has mooted the possibility of introducing an explosion proof pressure transducer. 
Rather than using a barrier and a regulated power supply to limit the amount of electrical power, so that a spark cannot ignite and explosion, the pressure transducer would be designed so that an explosion would be contained within the pressure transmitter itself.  
Therefore, there is no need for costly barriers and regulated power supplies.  
This is sometimes a preferred method because it is less expensive, yet still safe to be used in hazardous areas. 
At this stage ESI are still consulting with stake holders on the viability of introducing such a device.  
ADM will keep subscribers to our mailing list across any further developments.  You can sign up to our mailing list by completing the form on our webiste. The following link will take you to the page with the sign up form:
Link to Home Page and Sign-Up Form
ESI Pressure Transducers with DNV GL Marine Approval

The ESI range of pressure transducers includes pressure measurement devices, designed for use in shipping systems such as:
Marine engines
Cargo storage tanks
Fuel gauging systems
Fresh water storage systems
Wastewater management
Heating and cooling systems
Ballast tank control
Oil, LNG and LPG tanker applications
Marine and shipping industry regulations require that any component, or equipment used is tested and certified as suitable for use in harsh marine environments.
The Range of ESI Pressure Sensors with DNV GL Marine Approval
ESI's range of pressure measurement devices with NV GL marine approvals include: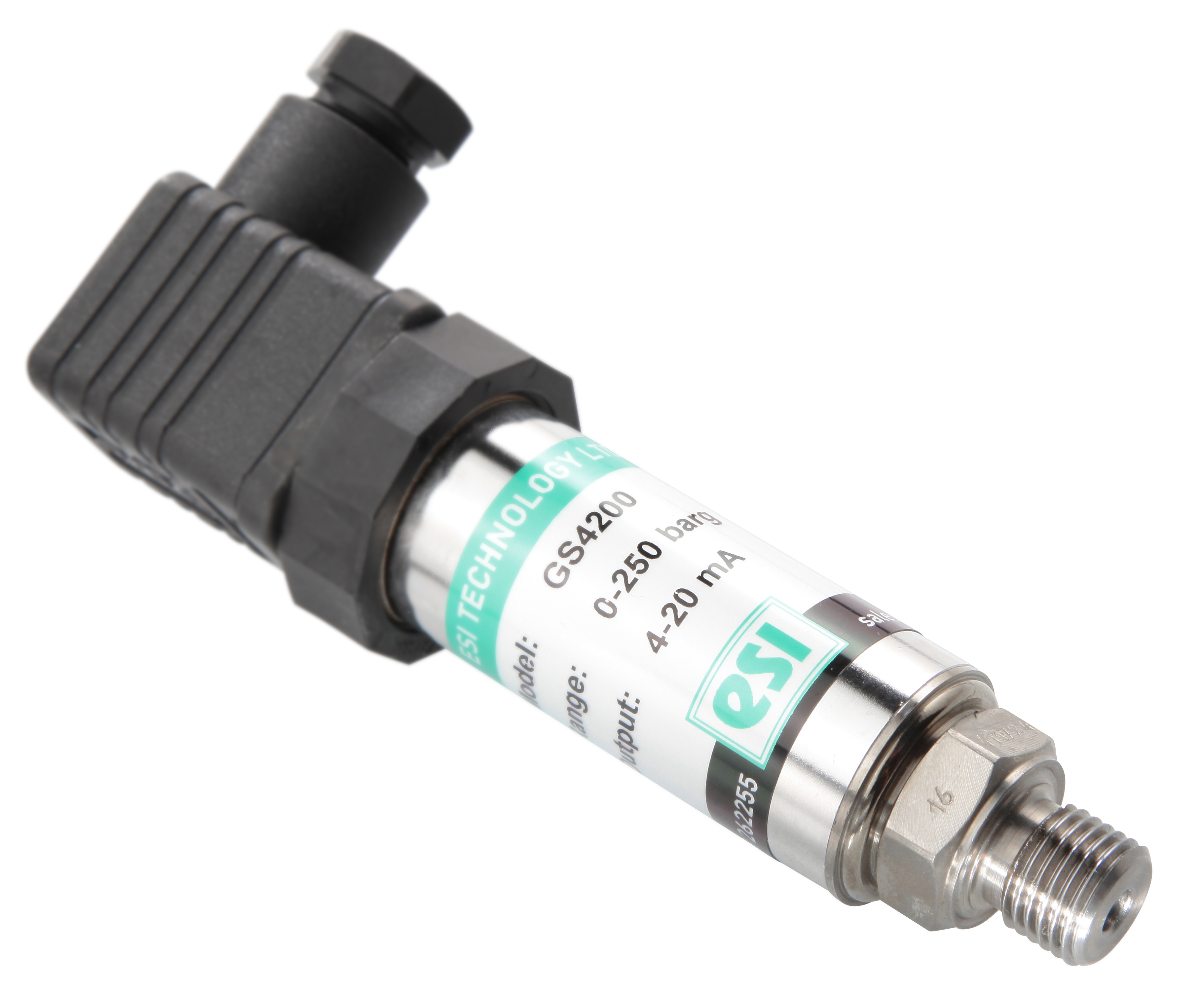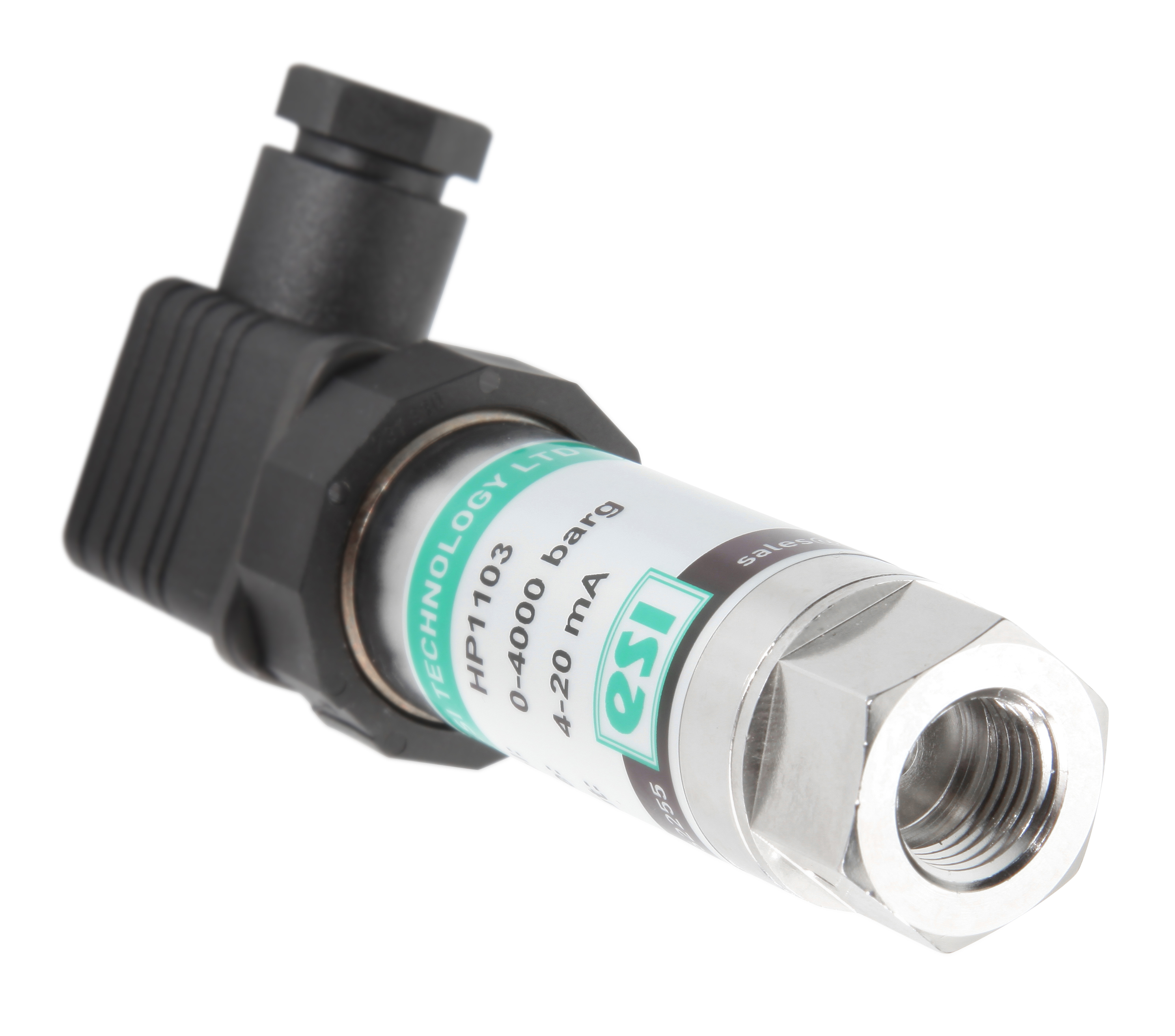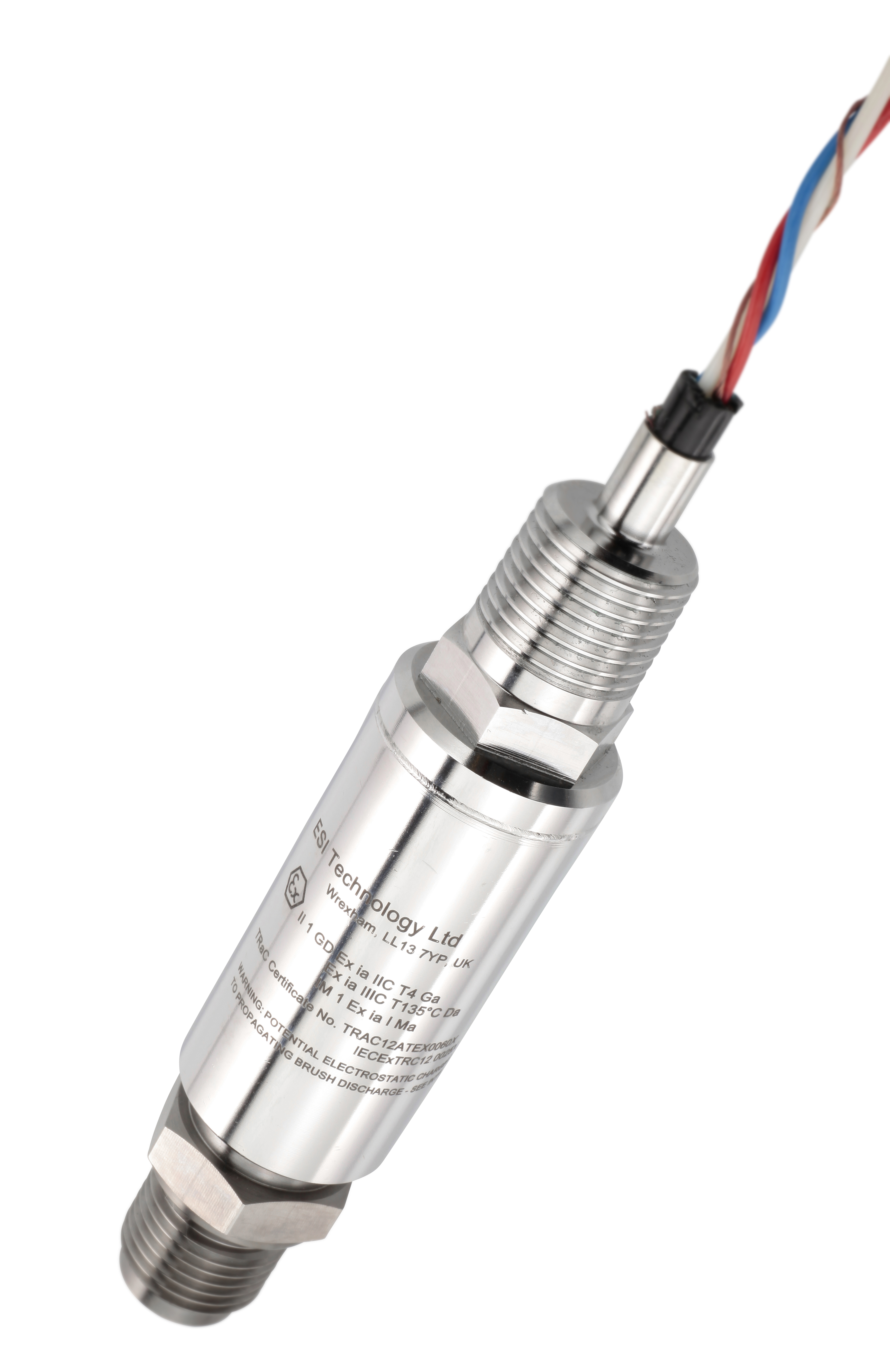 SOS (Silicone on Sapphire) Technology
ESI's Silicon on Sapphire technology is incorporated into many if these pressure transmitters to ensure high accuracy, virtually no hysteresis and that the pressure sensor maintains optimal performance whilst operating in tough and harsh environments.
DNV GL Marine Approvals
DNVGL (Det Norske Veritas Germanischer Lloyd) is the industry leader in Marine Accreditation and is accepted as suitable in even the most remote areas of the globe. Headquartered in Høvik, Norway, it was created in 2013 as a result of a merger between two leading organisations in the field - Det Norske Veritas (Norway) and Germanischer Lloyd (Germany). In addition to providing technical assessment, certification, risk management and software development, DNV GL also invests heavily in research.
ESI Pressure Transducers with Easy Calibration
ESI pressure sensors can be calibrated in Australia by any accredited calibration house.
This is because unlike many other 'barrel' type pressure transducers, you are not required to send the pressure transducer back to the manufacture for calibration.
This makes the ESI pressure transducers are more cost-effective alternative to head mount pressure sensors.
A digital display is also available, which connects directly to the transducer to give a localised read out.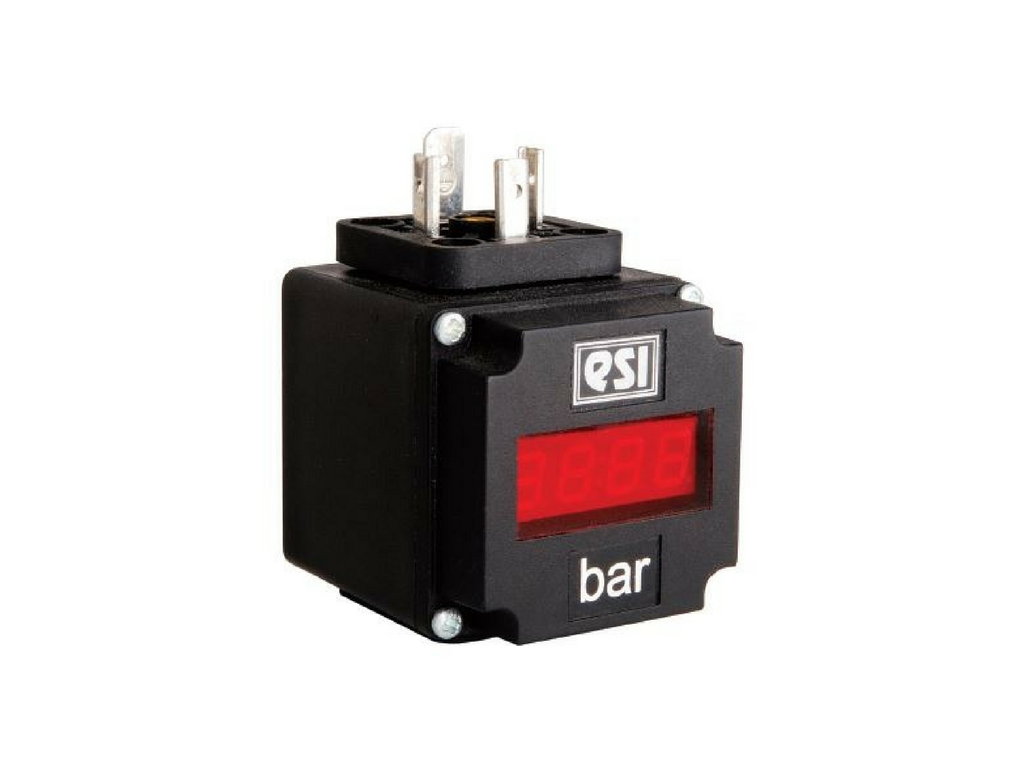 ESI is a British manufacturer of high quality pressure transducers. The company started out by designing and manufacturing pressure transducers for the military and aerospace industries. Therefore, their product range includes some interesting high-performance devices including high-pressure transducers, low pressure devices and corrosive resistant transducers.
 ESI pressure transducers have user-accessible potentiometers, which are used to calibrate the device. This means any accredited agency, or person can carry out calibration of the transducer.
Typically plant operators have had to either endure long down time, while a transducer is calibrated, or discard the device and unnecessarily buy a new transducer.
ADM carries stock of the ESI range of pressure transducers and offers a calibration service.
Pressure Transducers for High Pressure Applications
The ESI HP1000 series pressure transducer  offers you operating pressure ranges up to 5,000 bar, whilst still maintaining an extremely high performance level.
ESI's unique pressure sensor design gives high pressure integrity for safe use. The pressure diaphragm and process connection are machined from one piece of Titanium with no seals or welds. This ensures unbeatable corrosion resistance and gives you high resistance to overpressure and pressure transients.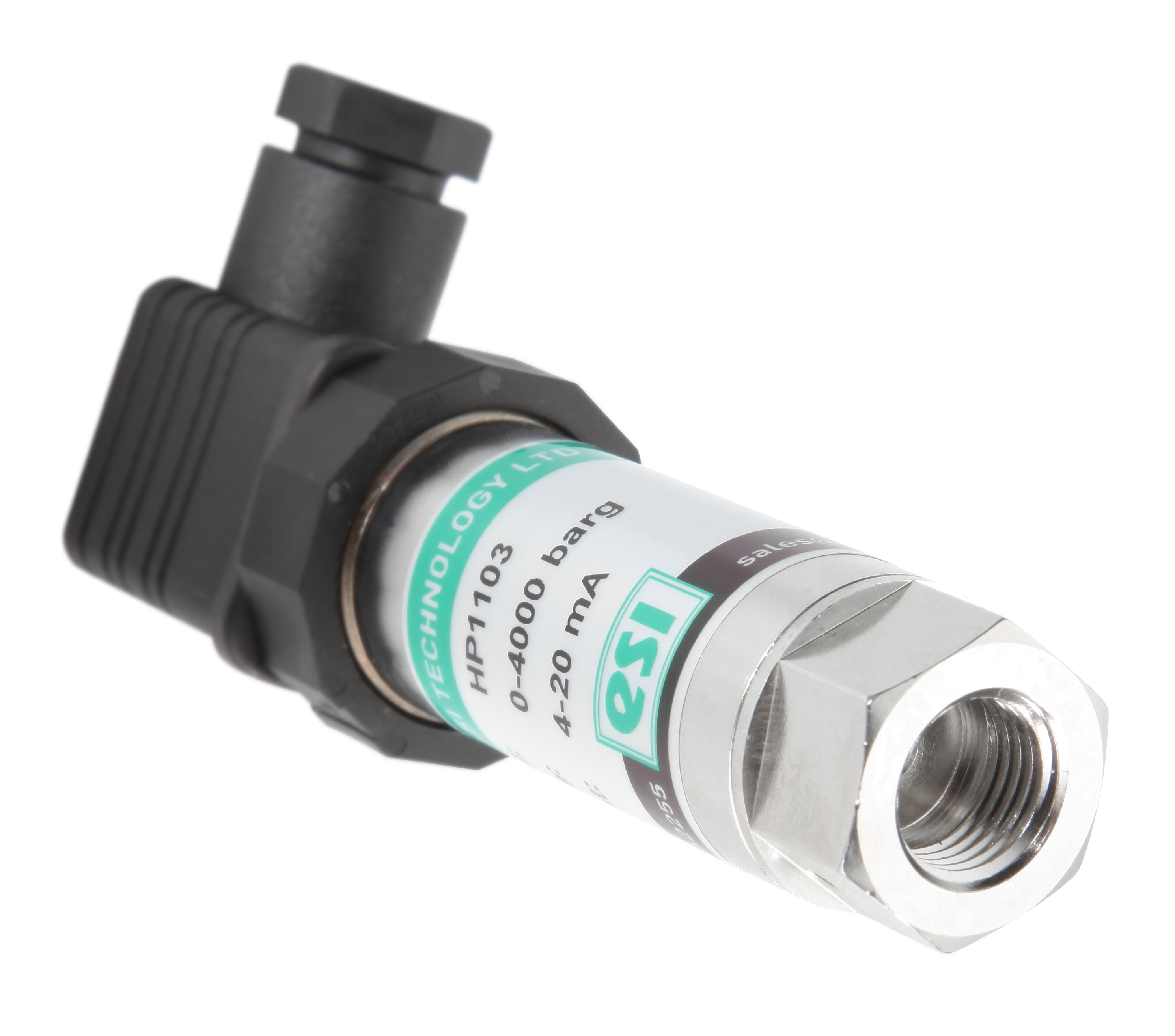 ESI's unique Silicon-on-Sapphire sensor technology also provides outstanding performance and gives excellent stability over a wide temperature range.
Designed to meet demanding environments, this pressure transducer will consistently maintain accurate performance whilst sustaining high durability.
Using the industry standard autoclave process connection enables safe and reliable sealing to such high pressures.
The ESI HP1000 pressure transducer is available in pressure ranges from 0-400 bar to 0-5,000 bar and with electrical outputs of 0-100 mV, 0-5V dc, 0-10 Vdc and 4-20 mA. So, it is compatible with almost any PLC, or high-level process control system.
There is also an IECEx option for use in hazardous areas.
Applications include aerospace, laboratory and test, oil and gas monitoring equipment and general industrial.
If you would like assistance with selecting a suitable pressure transducer for your high pressure application, then do not hesitate to call ADM.
Food Grade Pressure Transducers and Sensors
In Australia there are strict regulations concerning the production and processing of food and beverages. Naturally, these exist to protect the public from food products that have become contaminated with foreign bodies or bacteria.
Many food and beverage production processes involve the monitoring of pressure and level in pipes, filters and tanks. This requires the use of food grade pressure transducers and transmitters. These must be accurate, immune to vibrations and able to withstand the temperatures and stresses generated by cleaning processes. This means parts of these devices will come into contact with foodstuffs, otherwise referred to as the wetted parts.
The PR3800 range of pressure transducers from ESI Technology includes a range of flush diaphragm pressure transducers that have been designed for use in food and beverage production applications. They have a robust stainless steel construction and give you excellent stability and accuracy over a long service life. The flush membranes are suitable for CIP (clean-in-place) installations and seals are available that can be installed directly to the process, or remotely via a stainless steel capillary.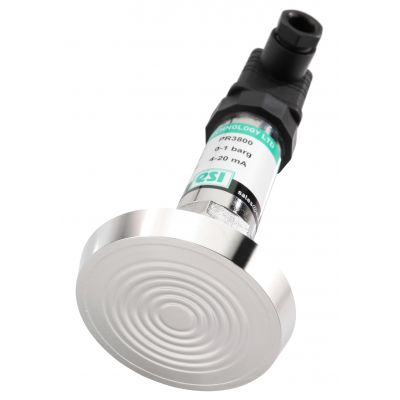 For very high temperature processes the PR3860 pressure transducer has been designed for use with media temperatures up to 250ºC.
The hydrostatic method of liquid level measurement is also widely used in food and beverage production. The ESI PR3400 range of hydrostatic pressure transmitters are designed for the measurement of depth and level of liquids in many applications. The measuring cell of the pressure sensor detects small changes in hydrostatic pressure, which increases or decreases according to the filling level. The ESI hydrostatic sensor is powered by a vented cable and is submerged into the liquid to be monitored. They are typically manufactured from 316l stainless steel, making them suitable for use in food and beverage production.
Product manager