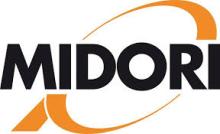 Midori Distributor Australia
Midori Precisions Co., Ltd., Tokyo, Japan, was established in 1952 as a manufacturer of displacement transducers that used wire-wound potentiometer technology. These early devices were at first used in applications in the precision instrumentation market.
By 1970, Midori technology introduced the ultra-precision conductive plastic Green Pot product range. During the 1980's, Midori pioneered yet another technology, the contactless magneto resistive potentiometer, known throughout the world by the "Blue Pot" trademark. Following that, in 1994, Midori introduced another contactless potentiometer line named the "Orange Pot" which adopted the Hall Effect device and later, the state of the art Hall Effect IC as a sensing element - giving customers improved functionality and cost effectiveness.
Midori, with its ISO 9001 certified quality control system, offers position sensing solutions essential to the aerospace, automotive, construction, marine, off-road machinery, manufacturing automation and medical equipment industries. Midori continues to provide quality and service, second to none in its industry.
Please use the links below to browse the range of Modori products on our website:
Rotary Position (Angle) Sensors
Linear Potentiometers (Linear Sensors)
Inclinometers (Inclination Sensors)
Product Manager